Chris Solari, Detroit Free Press
LANSING — Drew Stanton stood on the tee box at the 11th hole at the Country Club of Lansing on Monday, greeting every group of golfers who came through. All morning and afternoon. (Read full story here)
His relaxed smile said plenty. It's pretty good to be a retired NFL quarterback.
"A lot of guys that I've been around and that I've talked to, when you can finally come to that realization as far your past, it's a really nice feeling, because you're proud of what you were able to accomplish," the 38-year-old Stanton said. "I mean, the time and effort and everything that I put into that, to be able to accomplish what I wanted to for the course of my career, I'm very proud of it.
"But it was time to walk away."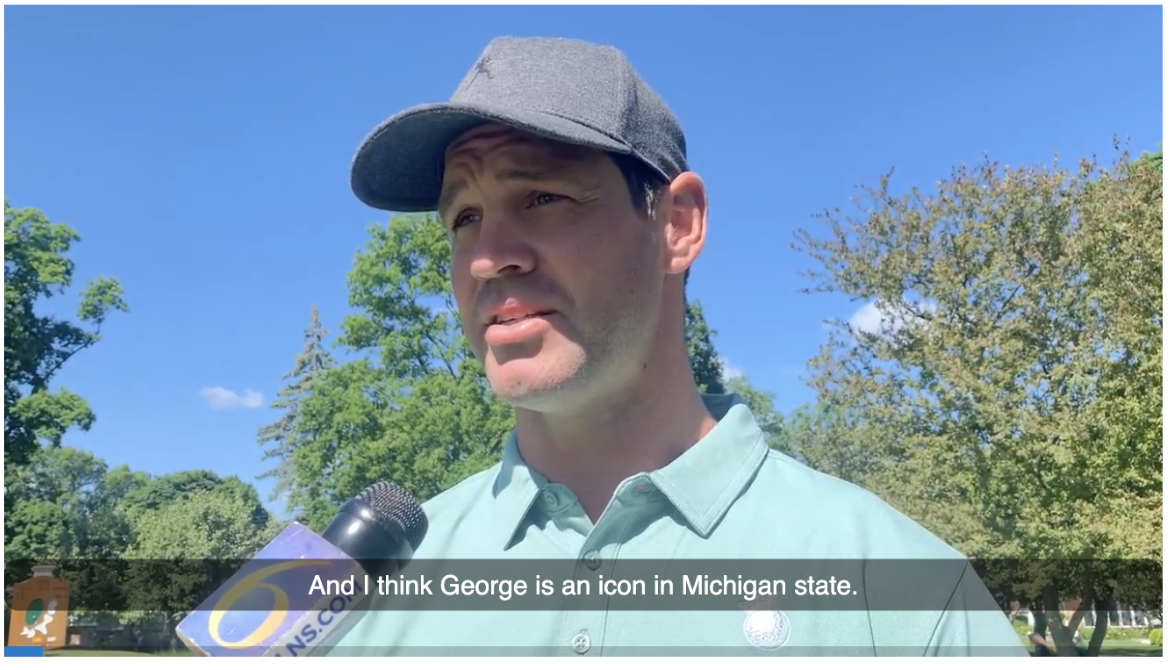 The former Farmington Hills Harrison High and Michigan State football star closed his 13-season NFL career by winning a ring with Tampa Bay as the No. 3 quarterback behind Tom Brady after signing in late December 2020 for Week 17 and getting elevated to the active roster for the Buccaneers' Super Bowl 55 victory over the Kansas City Chiefs.
Though he last played in a game in 2017, making four of his 17 career starts for the Arizona Cardinals that year, calls came throughout the past year. Would he be interested in one more opportunity to play?
Stanton said no to everyone and admitted "I don't have any desire to play" again. For him, it was time — to step away from the game and to begin his next phase in life, spending more time with his wife, Kristin, and their four kids.
"It's fantastic," said Stanton, who threw for more than 4,000 yards with 20 touchdowns in 38 career games with Detroit, Indianapolis, Arizona, Cleveland and Tampa. "Being able to go down to Tampa and win a Super Bowl ring and see that run and be a part of that, it brought such closure for me to realize, 'OK, now Drew, it's truly time to step away. Last year, it was one of those things where I felt awkward as everybody was ramping up for training camp and doing all that. This year, I'm so glad to just be on the outside looking in."
Returning from his home in Arizona to help out where he grew up — Stanton is from Okemos, just east of Lansing — always has been a big thing for him as well.
Stanton made his High 5ive Foundation charity golf outing a priority throughout his career. It became one of the summer highlights around his former campus and helped a number of charities locally before the pandemic slowed turnout the past few years.
Meantime, the deaths in recent years of George Perles, Peter Secchia and Frank Kelley brought uncertainty to their one-time annual mid-Michigan golf event (the Kelley-Perles-Secchia Special Olympics Golf Classic) that served as an unofficial return to fall football. Stanton and Spartan football coach Mel Tucker stepped in to fill that void by combining forces to debut The Classic on Monday, with proceeds going to benefit Special Olympics of Michigan and the Children's Miracle Network.
"Just a great Spartan, beloved throughout the community. Everyone loved George and his family," Tucker said of Perles. "He invested a lot of his time and a lot of his life into Michigan State. And so, for me, this is just a way, in my own way, try to help keep his legacy alive. I know this was an important event for him."
Attendance increased for the new tournament, with morning and afternoon tee times "at full capacity," Tucker said. He visited with the golfers early then played in the second session. NFL quarterback Baker Mayfield, who played two seasons for Tucker's hometown Cleveland Browns alongside Stanton, golfed during the morning. And ESPN analyst Kirk Herbstreit served as the emcee for the "Afterglow" dinner event.
Stanton closed out his career as a tutor of sorts for Mayfield and Andrew Luck in Indianapolis. He continues to do so for Mayfield during his summer of trade rumors and uncertainty with the Browns. Mayfield returned the favor by flying to Lansing for Stanton's outing before returning to work a youth football camp Tuesday at his alma mater, Oklahoma.
"Drew is an extremely important person in my life," Mayfield said. "He's been a mentor for me, just a role model with the way he lives his life. I'm very thankful for him being in Cleveland when I got drafted there and just teaching me the ropes and all the ups and downs and you know how to handle the business of the NFL. …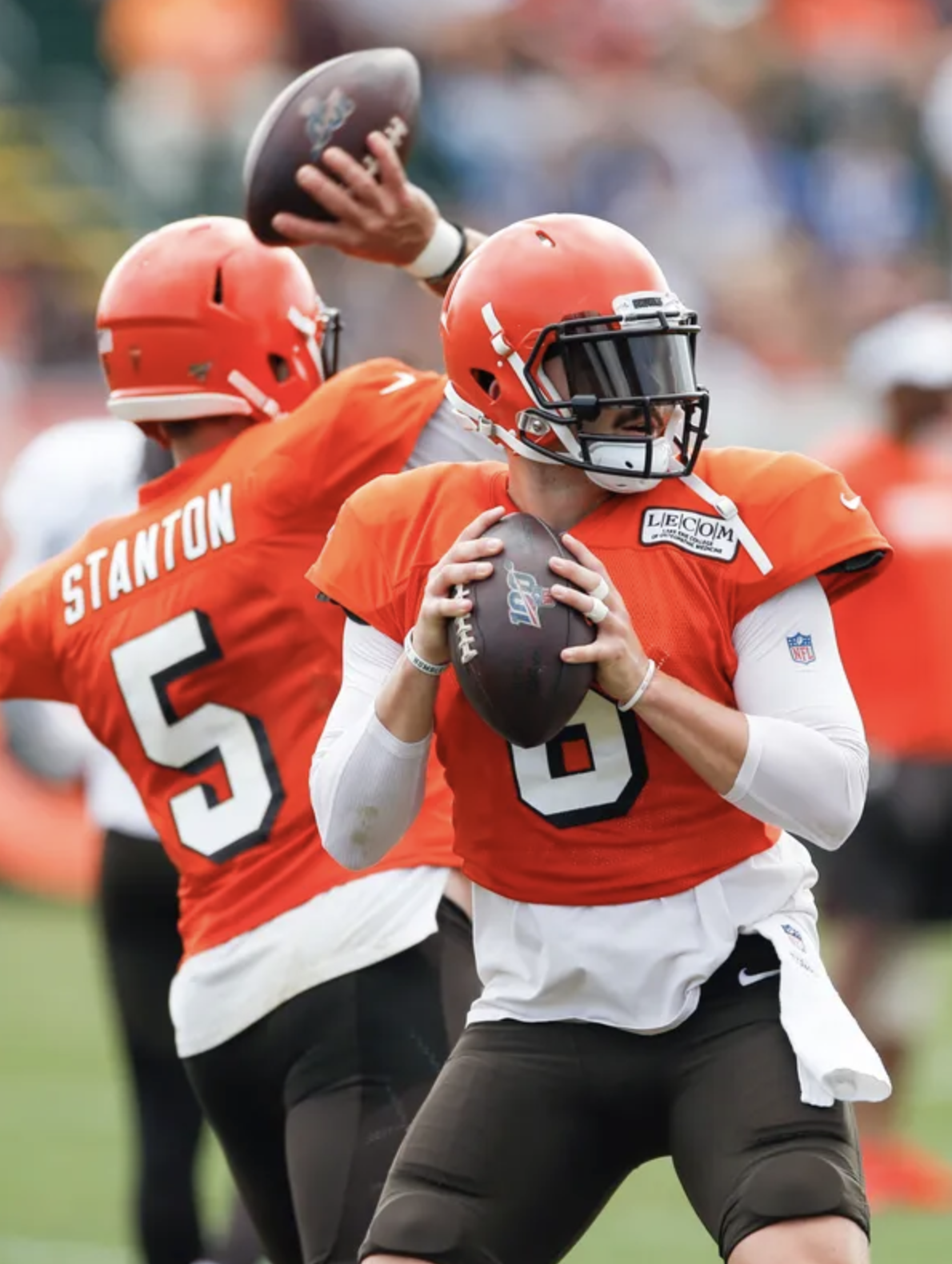 "There's a lot of things that people might think my life is crazy right now, but all of that's out of my control. It's another thing that Drew taught me — control what you can, and let the rest fall into place."
Said Stanton: "This is a relationship business. So to be able to see Baker and have him come out and make an effort to get up here, it's great. … I was very thankful to have him out here, and a lot of people that I knew from Michigan State that are out here, it's great to see those faces. But Baker in particular will always be special, just because of the time that we had together in Cleveland.
"And I want to see him go to a place where he can have success, where he can be himself and be in a position that he can thrive. And a change of scenery, I think, will do just that for him. So I'm excited for him to get that opportunity."
Building those bonds, Stanton said, is part of what he loved about playing football. He continues to work with players among the many options he currently is weighing for what comes next.
Even if he isn't quite sure what exactly his future holds.
"I'm still trying to figure that out," Stanton said with a grin. "I obviously love sports and would love to stay involved in some capacity. I'm doing some stuff for the Cardinals radio network out in Arizona. I've really liked that quite a bit. I'm doing some work with some different quarterbacks out there and mentoring-slash-working on things, and I've really enjoyed that. So a lot of things in different places.
"But the most important thing has been my family, and that will remain to be that. So I'm taking time to make sure that I can be the baseball coach and softball coach and soccer coach, make sure that I can be the husband that I want to be and all those things. And then we'll pick up the pieces from there."